TreeTalk products
System. Core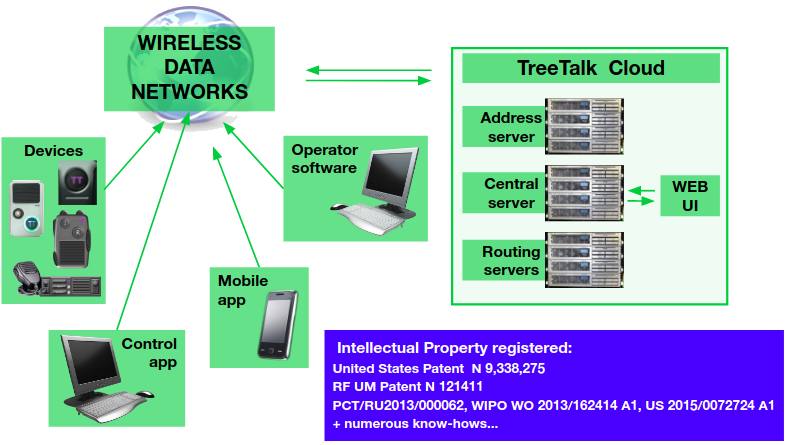 There are two underlying ideas that we follow, developing our system:
A. People really often need the devices and apps that work in the instant-call paradigm (instead of session-mode paradigm used in telephones and messengers like Skype etc). Two-way radios are the mostly popular in this area. People have been buying these pricey radios for 100 years and continue. But existing solutions are based on ridiculously outdated technologies, which we have to improve.
B. Nowadays, it makes no sense to build primitive infrastructure for each new voice channel (as LMR/PMR users still do), while modern networks cover 90 percent of the world population, and powerful microprocessors are cheap and energy efficient.
So we digitize sound, compress and transfer it (without loss) to other devices, to their groups and to compatible hardware and software systems, using existing wireless data transport environments. We've developed voice compression and reliable transmission technology, which allows us to use even the narrow-band mobile networks of 2-3 generations.
Here is the video, clarifying the TreeTalk device, software and infrastructure in 1 minute, in English.
The entire system, beside terminals, comprises a web front-end, back-end, databases and servers for addressing and routing. This platform allow developing a variety of applications in the area of the instant voice conversation and messaging.