Credenza is a crowdsourcing data analytics and fraud prevention CRM platform where online sellers may store, share and get depersonalized customer data.
Our main goal is to make it easy for every eCommerce seller to verify the buyer and build the pre-sale interaction correctly.
This will reduce the losses of online stores from fraudulent buyers, the unproductive transportation of returns, and consequently, CO2 emissions. Finally, honest buyers will be rewarded by reducing prices.
Traduzione italiana: https://tree-talk.com/wp/credenza-soluzione-crm-per-i-rivenditori-online-per-la-prevenzione-delle-frodi/
The burst of e-commerce goes along with a bunch of new issues from the buyers' side: "friendly fraud", "wardrobing", and return abuse is a $24 billion problem. Online payment chargebacks fraud costs e-retailers 1.8% of revenue in addition.
Besides, in just the last several years, the cost of return deliveries has grown by 75%, reaching an estimated $550 billion in 2020! For example, on Amazon, the percentage of returns is 5-15%, and in the categories of clothing and electronics – up to 44%. Most returns are not salable. This is an enormous amount of senselessly burned fuel and labor.
These losses are borne by decent buyers through the increased price of the goods.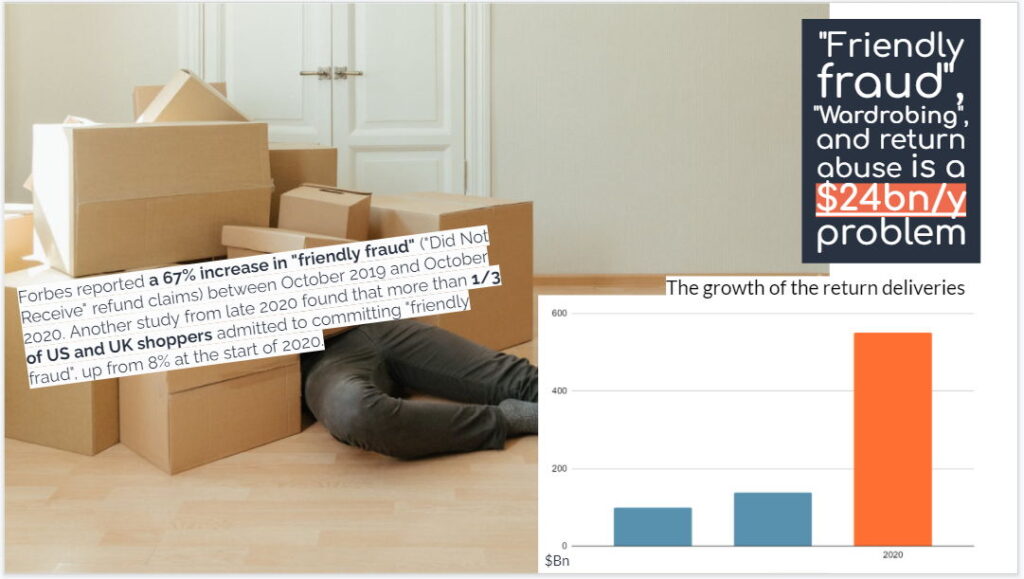 But there's something unfair here: the buyer can see the rating and background of the seller, but the seller usually does not have the opportunity to verify the buyer. Large marketplaces (like Amazon, and eBay) collect tons of information about the behavior of buyers, but use it for their own benefit, without helping their sellers in any way.
Our solution Credenza is like a "Trust Pilot in reverse". It is global crowdsourcing, data analytics, and fraud prevention platform where sellers may store, share and get depersonalized customer data. That data will contain information on successful and unsuccessful transactions on different marketplaces and will be used to calculate the unique buyer's rating available for all the sellers. Based on more detailed information, the seller can improve efficiency when the order arrives, for example: offer advice to an unsure buyer, send a sample and suggest a making review to a respectable customer, and find some legitimate solution (such as insurance, delivery against signature, or adding to the blacklist) for a buyer who is a probable abuser.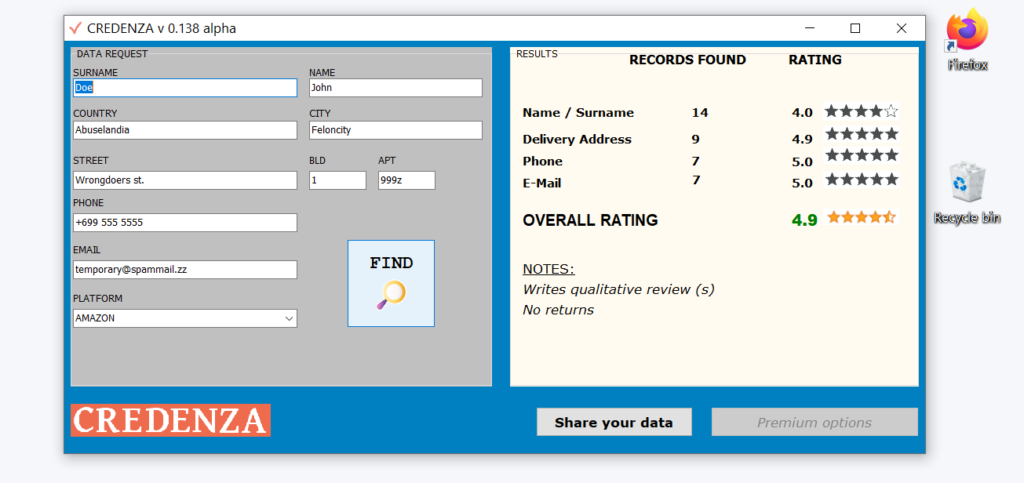 You may ask:
What about numerous personal data restrictions?
To comply with regulatory requirements on personal data use, we have developed an original technology. The software identifies the buyer based on accurate delivery data (name, address, phone, etc.), instead of using unreliable metadata (IP address and cookies). Delivery data is legally allowed to be used by the seller (for order processing), and, thanks to our know-how, this data never leaves the seller's PC. The common database stores only digital "fingerprints" and related shared data of interactions with buyers. By requesting them, any seller can make an informed decision on the client. But no one will be able to recover personal data from the records stored in the database (even if someone gets access to it).
Another frequently asked question:
While there are millions of e-commerce shops and Amazon sellers, there are way more buyers – billions. How to store and retrieve this really huge amount of data?
Our know-how in big data processing allows us to write and query millions of non-indexed records rapidly, still maintaining ACID, thanks to the originally engineered no-SQL database of tree-like architecture. Each function and component of this database is developed in the c/c++ programming language (the fastest computer language) and further optimized according to the nature of the data being stored.
Thus, we have solved two huge problems: 1) Some personal data is used for identification, but it does not leave the user's computer; 2) Storage and retrieval of millions of records are carried out really fast thanks to our know-how.
Is Credenza easy to use?
Absolutely! When you need to verify a buyer, you simply insert the details into the form and click one button to get a report. Bulk requests are also possible using a regular .csv file. After 3-4 weeks, the system will offer you to share your experience on processed orders, in a convenient way.
In addition, we are planning to collaborate with e-retail software developers (such as WooCommerce, OpenCart, etc) to implement our functionality into their well-known solutions as a plug-in (extension), for providing more value and maximizing impact.
And what about the price?
Evidently, such a platform needs powerful servers, a good Internet connection, and professional software development. But the more sellers use it, the less would be the subscription fee. This is how mutual aid works: share your experience with others and get more value for less. We believe that we would have at least 1000 pre-orders (it is an extremely little fraction of more than 24 million eCommerce websites, and more than 10 million sellers on marketspaces). With these pioneers, we may start with pretty moderate prices: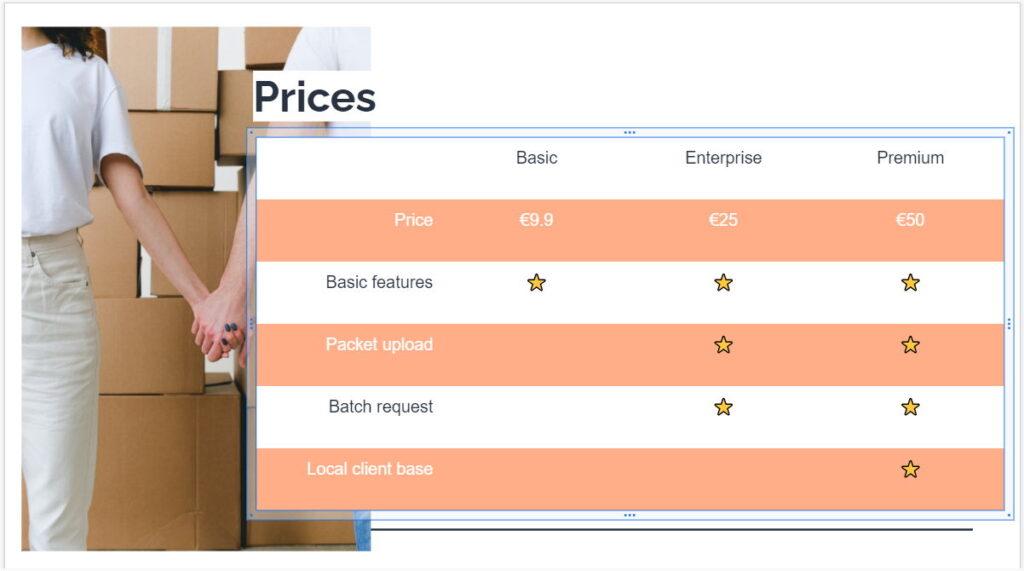 The cost of a monthly subscription to our service (€9.9 for Basic, €25 for Enterprise, and €50 for the Premium plan) looks reasonable compared to average sales (and losses from fraud).
Premium plan users, who have a significant amount of sales, will get the additional opportunity to purchase special software that generates separate ratings and recommendations for both their own (local) and common (crowdsourced) data.
And you can try Credenza for free – just subscribe for the free beta version here or send us an email.
Our contribution to sustainability and environmental protection
is the concept itself: thanks to our solution, the number of returns of goods will decrease, and therefore there will be less unnecessary transportation (and CO2 footprint, consequently), and also fewer goods will be thrown into landfills because they are unsuitable for further sale.
Do you like the idea?
Support us, and get incredible rewards:
👉 special prices for subscription;
👉 invitations and early access to the beta version;
👉 your name, logo, and link to your website on the Thank You page (a bit more promotion for your online store).
So, let's build a better market on Credenza together!